BUFFALO GROVE, Illinois – ANGUS Chemical Company ("ANGUS" or "Company"), a leading global producer of essential ingredients for the biotechnology, pharmaceutical, home and personal care, and other consumer-oriented and industrial markets, today announced it was awarded the 2023 Gold Recognition Level in sustainability performance by EcoVadis. Achieving Gold Recognition places ANGUS in the top 3% of all global companies assessed by EcoVadis for their sustainability performance in 2023.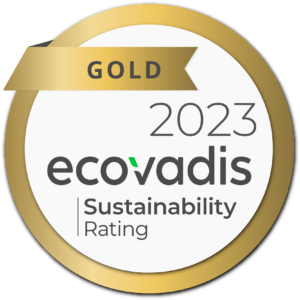 "The EcoVadis Gold Medal reflects the quality of our sustainability management program and the commitment of our entire organization to operating at the highest standards of environmental, social, and governance (ESG) performance," said Dr. Pam Spencer, Vice President, Regulatory, Product Stewardship, Quality and Sustainability. "Our EcoVadis scorecard provides commercial partners around the world with an unbiased, transparent view of ANGUS' sustainability performance throughout our global business operations."
This is the third consecutive year, and fifth year overall, ANGUS has achieved a Gold Recognition Level since it began participating in the independent EcoVadis assessment program in 2017. ANGUS' overall 2023 score of 73/100 represents a 5-point increase from the prior year and is based on continuous improvements made by the Company in the four areas of corporate social responsibility (CSR) and sustainability assessed by EcoVadis: Environment, Labor Practices and Human Rights, Fair Business Practices, and Sustainable Procurement.
"Embracing the core elements of sustainability and social responsibility is more than a corporate strategy. It's a compass guiding us to a future where success is measured not only by the positive impact we create for our customers, employees and investors, but also for our planet and our communities," said David Neuberger, President and Chief Executive Officer. "We look forward to continuing this journey of continuous improvement as we transition later this year to our new company name and brand, Advancion."
More than 100,000 companies around the world partner with EcoVadis to collaborate on benchmarking their sustainability performance through a common platform, universal scorecard and performance improvement tools. ANGUS invites its commercial partners to request direct access to ANGUS' 2023 evaluation results from EcoVadis as part of their supplier evaluation process.
ABOUT ANGUS
ANGUS is a leading global manufacturer and marketer of specialty ingredients and consumables for biotechnology, pharmaceutical, consumer and industrial applications. The Company innovates through its unique nitroalkane chemistries, including its flagship AMP™ (aminomethyl propanol) multifunctional additives and TRIS AMINO™ (tromethamine) buffers, which are produced at fully integrated, ISO 9001-certified manufacturing facilities in the United States and Germany. ANGUS serves its global customers through six regional Customer Application Centers located in Chicago, Illinois; Paris, France; São Paulo, Brazil; Singapore; Shanghai, China; and Mumbai, India. The Company is privately owned by Ardian and Golden Gate Capital, and is headquartered in Buffalo Grove, Illinois.