BUFFALO GROVE, Illinois – Advancion Corporation ("Advancion" or "Company") today published its 2022 Corporate Sustainability Report, the Company's second annual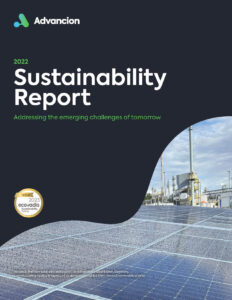 public report developed in accordance with the latest Global Reporting Initiative (GRI) standards. Advancion, formerly ANGUS Chemical Company, is one of the world's largest suppliers of Life Sciences buffers and other proprietary ingredients, providing high-performance products, best-in-class quality and guaranteed supply security across various industries and applications.
At the core of Advancion's sustainability strategy is the concept of sustainable innovation, which is built on the Company's investments in continually enhancing product efficiency, performance and profile while developing advanced technologies that align with ever-evolving sustainability-oriented policies and regulations. Across all industries Advancion serves, the Company actively seeks solutions to address complex global challenges, such as natural resource and waste management, the transition to electrification and lightweighting of vehicle components, and life-saving healthcare treatments and advanced therapies.
Highlights from the 2022 Sustainability Report include:
Introduction of Advancion's ambitious 2030 goals aimed at reducing water, waste, energy and GHG intensity, expanding on the Company's longstanding commitment to environmental preservation and protection.
Overview of transformational investments made in 2022 to expand product lines and capabilities, enhancing the Company's focus on serving the global Life Sciences and Personal Care markets, including the acquisition of Expression System, LLC in November 2022.
Continued focus on promoting a zero-incident safety culture, which creates the foundation for the Company's safety performance results, which continue to significantly exceed industry averages.
Expanded disclosures related to Scope 1, 2 and 3 greenhouse gas (GHG) emissions, as well as progress updates initiatives designed to reduce the Company's emissions and energy usage, which include the installation of a new 5 GWh/year solar plant at the Advancion manufacturing facility in Ibbenbüren, Germany.
Reporting prepared in accordance with the GRI Sustainability Reporting Standards 2021, as well as other standards issued by the Sustainability Accounting Standards Board (SASB) and the United Nations Sustainable Development Goals (UN SDGs).
"Through our annual sustainability report, we reinforce our commitment to transparency and reflect on our transformational successes in helping drive positive change in our industry as well as in the essential industries we serve," said David Neuberger, President and Chief Executive Officer. "As environmental and social concerns become more prominent, integrating sustainability practices into every aspect of our operations is a key driver of success for Advancion, our customers and our communities. We will continue to innovate, adapt and work together with all our stakeholders to further enhance our ability to help address the emerging challenges of tomorrow by continuously improving our own sustainability performance while supporting our customers' sustainability initiatives through the high-purity, high-performance ingredients we provide."
For more information about Advancion's sustainability platform and to download the 2022 Corporate Sustainability Report, visit advancionsciences.com/sustainability.
ABOUT ADVANCION
Advancion, formerly ANGUS Chemical Company, is a leading global producer of specialty ingredients and consumables for biotechnology, pharmaceutical, home and personal care, and other consumer-oriented and industrial markets. The Company is one of the world's largest producers of life sciences buffers and other proprietary ingredients, providing high-performance products, best-in-class quality and guaranteed supply security for more than 80 years. Through Expression Systems, an Advancion company, the Company produces innovative cell culture media formulations, cell lines, molecular tools and reagents used in the development and commercial manufacturing of advanced therapies. Advancion operates three manufacturing facilities in the U.S. and Germany and serves its global customers through six regional Customer Application Centers located in Chicago, Illinois; Paris, France; São Paulo, Brazil; Singapore; Shanghai, China; and Mumbai, India. The Company is privately owned by Ardian and Golden Gate Capital, and is headquartered in Buffalo Grove, Illinois. For more information, visit advancionsciences.com.